Štěňátka vrhu "J" narozena 12.3.2018, 2 psi & 5 fen
Puppies born 12.3.2018, 2 male & 5 female
Přijímáme rezervace / We accept reservations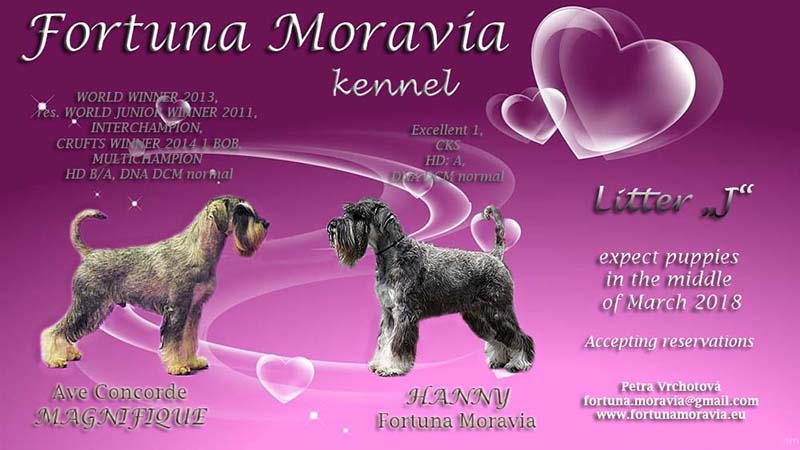 RODOKMEN / PEDIGREE
FOTOGRAFIE A VIDEA NAJDETE NA FACEBOOKU !!!

---
Naše chovatelská stanice nabízí štěňata středních kníračů pepř a sůl. Všechna štěňata jsou s průkazem původu, který je zaregistrovaný u FCI – Federation Cynologique Internationale.
Štěňata jsou k odběru od 8 týdnu věku, jsou preventivně odčervená, čipovaná a očkovaná. Při odběru je štěně předáno novému majiteli s kupní smlouvou, očkovacím průkazem a chovatelským balíčkem.
Naše štěňata jsou odchována v rodině s maximální možnou péčí. Snažíme se štěňata zvykat na různé situace, zvuky a prostředí. Pokud počasí dovolí, mají štěňata k dispozici velký travnatý výběh na zahradě.
INFORMACE PRO VÁŽNÉ ZÁJEMCE
» Pokud jste se nás rozhodli kontaktovat, napište prosím něco bližšího o sobě, kde žijete (rodinný dům nebo byt), jaké máte zkušenosti se psy, proč máte zájem o středního knírače.
» Na e-maily a sms s pouhým dotazem na cenu štěněte NEODPOVÍDÁME!!!
» Uvítáme osobní návštěvu chov. stanice. Můžete se sami přesvědčit, kde štěňata budou vyrůstat nebo již vyrůstají.
» Při rezervaci Vašeho štěněte požadujeme rezervační poplatek ve výši 25%. Při odběru štěněte je rezervační poplatek odečten od konečné ceny štěněte. Pokud zájemce o štěně zruší rezervaci, poplatek za rezervaci zůstává chovateli a nebude zájemci vrácen.
» Veškeré podrobné informace o rodičích, jejich fotografie a rodokmeny najdete zde na webových stránkách.
---
Our kennel offers puppies of Standard Schnauzer pepper and salt. All puppies are with pedigree, which is registered with the FCI – Federation Cynologique Internationale. Of course, exported puppies have FCI export pedigree and International certificate of vaccination – Pet Passport. Puppies are preventive dewormed, they have chip and vaccinated.
Our puppies are raised in a family with the greatest possible care. We try to puppies to get used to different situations, sounds and environments. If weather permits, puppies have available to a large grassy enclosure in the garden.
INFORMATION FOR SERIOUS BUYER
» If you decide to contact us, please write something more about yourself, where you live (family house or apartment), what is your experience with dogs, why you are interested in standard schnauzer. If you are interested in breeding, exhibition or sports.
» I don't respond!!! to e-mails and SMS with ONLY asking for the price of puppy.
» Price depends on the quality of each puppy.
» When booking your puppy we require a deposit. A puppy is not reserved until we receive your deposit.
» All details of parents, their photos and pedigrees can be found here on the website. Can I send copies of pedigrees.
» We prefer people interested in breeding and exhibition, but is not required.
AIR TRANSPORT
» It is possible to deliver your puppy by air. We export to all countries.
» Air transport takes place at 16 weeks old puppy. This depends on the veterinary conditions of the country where the puppy travels.
» Price per puppy must be paid before his flight departure.
» Once a final estimate of shipping costs is known, these costs must be paid prior to shipping.